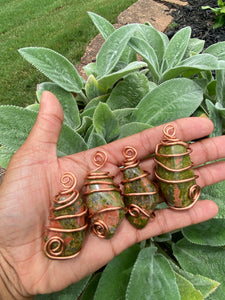 Unakite Necklace
Doers Beat Thinkers
Regular price $33.33 Sale
Chakra: Heart, Solar Plexus
Zodiac: Scorpio
Planet: Earth
Properties: Compassion; Empathy; Enhancing; Enlightenment; Clairvoyance; Emotional Understanding;  Energy Transfer; Expanded Awareness; Fertility and Pregnancy; Generosity; Gentle Self-Expression; Grief and Mourning; Grounding; Growth; Inner Peace; Inner Vision; Insight; Inspiration; Intuition; Joy; Knowledge; Living In The Present Moment; Love & Relationships; Meditation; Mental Enhancement; Nourishing and Rejuvenation; Nurturing; Opportunities; Passion; Peace of Mind; Physical Healing; PTSD; Relaxation; Resolution; Self- Discipline; Self - Healing; Self Discovery; Sense of Purpose; Spiritual  Awakening; Stress Relief; Trust; Truth; Wisdom; Anxiety Relief; Calming and Patience; Claiming Wholeness;
Unakite has a special connection with one's heart and aids in a deeper understanding of their emotional body. Simply meditating with this stone will help push out those "dead weight" feelings we continue to carry with us. These emotions serve no positive purpose and are taking up your heart occupying space. Unakite helps one push through these hardships no matter the emotional pain and allows one to truly find inner peace. This crystal has a soft touch and will keep you comfortable even when dealing with the most painful emotions. It's a powerful transformation talisman that is here to not only strengthen your heart but also bridge the gap where new opportunities await!

Due to Unakite having Epidote in it, this mineral is a natural enhancer of any emotion or vibration that is placed around it. For example, if one is experiencing a bad day and is carrying a piece of Unakite on them, we recommend placing it aside for the time being. Let yourself start fresh and anew the next day, with a leveled head and a positive attitude.
Blessed Healing!!!
Stones pictured are an example of what you will receive. Please allow for some differences as each stone is unique.
***Remember, crystal meanings are for spiritual support, not prescription or healthcare information. Crystal and Spiritual healing info is not a substitute, nor intended to be a substitute for medical advice, treatment or diagnosis. It is presented as spiritual support ONLY. Please do not forego medical treatment if needed. For medical info please seek the advice of a licensed healthcare professional***