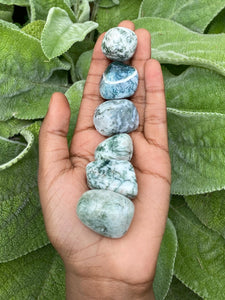 Tree Agate Medium Tumblestone
Doers Beat Thinkers
 Safe travel ;Protection;  Loyalty;  Tranquility; Love; Abundance; Wealth; Good luck; Longevity;  Acceptance; Courage and strength; Protection, Security and Safety; Balance; Harmony; Generosity; Appreciation of nature

Agate is an excellent stone for rebalancing and harmonising body, mind and spirit.  It cleanses and stabilises the aura, eliminating and transforming negativity.  Agate enhances mental function, improving concentration, perception and analytical abilities.  It soothes and calms, healing inner anger or tension and creates a sense of security and safety.
In addition to the generic healing properties of Agate and Chalcedony, Tree Agate also known as Dendritic Agate brings fullness and abundance to all areas of life.  It is the stone of plenitude.  It creates a peaceful environment and encourages the enjoyment of each moment.  Deepens your connection to the earth.  Tree Agate brings stability in times of strife or confusion.  Lends perseverance and the ability to see difficulties as a challenge.  Opens and aligns the chakras.
Tree Agate resonates with blood vessels and nerves.  It heals the nervous system and conditions such as neuralgia.  Treats skeletal disorders.  Reverses capillary degeneration and stimulates the circulatory system.  Provides pain relief.
Blessed Healing!!!
Stones pictured are an example of what you will receive. Please allow for some differences as each stone is unique.
***Remember, crystal meanings are for spiritual support, not prescription or healthcare information. Crystal and Spiritual healing info is not a substitute, nor intended to be a substitute for medical advice, treatment or diagnosis. It is presented as spiritual support ONLY. Please do not forego medical treatment if needed. For medical info please seek the advice of a licensed healthcare professional***