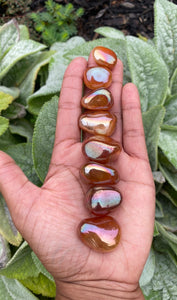 Tangerine Aura Quartz Tumblestone
Doers Beat Thinkers
Regular price $15.15 Sale
Zodiac -  Leo and Libra
Chakras - Third Eye, Soma, Sacral, Solar Plexus, and Root
Properties- Increase Self Esteem; Higher Self worth; Creativity; Sexuality
Clear Quartz bonded with Gold and Iron; produces a bright, shimmering yellow-orange iridescence. This crystal has dynamic energy, connected to higher forces and genuinely supportive of spiritual exploration. It is excellent for visualization and gaining profound insight. A six-sided form is ideal for opening a blocked or un-awakened Third Eye and heals the Third Eye and Soma Chakras after psychic trauma or restriction. Use to disperse dark moods and uplift the spirit. It makes one more responsive and imparts the ability to face life's challenges with patience and cheerfulness. Tangerine Aura unites the Base, Sacral and Solar Plexus Chakras to provide a cleansing, energetic flow throughout the body and to stimulate one's creativity. It aligns clarity, insight, and perspective with the strength to help the mind analyze and categorize. Tangerine and Tangerine Sun Aura stabilizes the link between the physical and subtle bodies, penetrating every cell with potent energy to recharge and invigorate cell function and initiate subtle DNA changes.
Its lovely orange color relates to the sacral chakra, and the color combined with the crystal is believed to be very helpful for people dealing with issues of self-esteem, self-worth, and confidence issues.
Tangerine Aura Quartz also is said to enhance and intensify sexual energies and un-block problems in that area of the body and energy field.
This beautiful crystal is perfect for using in gridding work for healing or for filling a room with a particular frequency. Specifically, this is a great one for the bedroom. It also assists in getting creative juices flowing, be that writing, painting, dancing, whatever your block this stone is said to improve the energy get moving again. This stone increases vitality, highly programmable, and can amplify one's intention in any area, especially those inspired by love and compassion.  It uplifts one's mood and puts one into a state of serenity and peace, allowing one to perceive and receive the love energies of the higher planes.  It is beneficial for emotional trauma and hurt and multi-dimensional cellular healing. 
Blessed Healing!!!
Stones pictured are an example of what you will receive. Please allow for some differences as each stone is unique.
***Remember, crystal meanings are for spiritual support, not prescription or healthcare information. Crystal and Spiritual healing info is not a substitute, nor intended to be a substitute for medical advice, treatment or diagnosis. It is presented as spiritual support ONLY. Please do not forego medical treatment if needed. For medical info please seek the advice of a licensed healthcare professional***