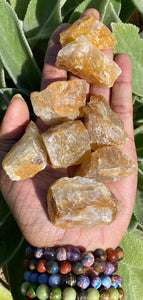 Strawberry Calcite Raw Stones
Doers Beat Thinkers
Intentions: Compassion, Love, Heart Healer
Chakra: Root, Heart
Zodiac: Cancer, Leo
Strawberry Calcite is helpful in all aspects of emotional healing. It helps you connect with the truth of your own heart. Like all Calcite, it connects you to your inner wisdom. It also helps to clear emotional blockages and elevates the spirit. Strawberry Calcite helps bring positive energy to you and awakens your motivation and willpower. Strawberry Calcite resonates with both the Heart and Root Chakra. It helps ground you while also opening you to love and new possibilities. Strawberry Calcite enhances creative energy. It strengthens your sense of compassion for yourself and others. Strawberry Calcite helps heal your heart and bring positive vibrations to your life.
 Red Calcite is an energizing stone. It has detoxifying properties and helps rejuvenate the mind and body. Red Calcite can help to reduce stress and assist with problem-solving. It rejuvenates the soul and increases inner strength. Red Calcite aids in reducing negative emotions and can help your soul feel protected. Red Calcite is a Root Chakra stone that helps center and ground energy. It is associated with the Element of Fire and can help you feel comfortable in your skin and promote self-confidence. Red Calcite can lessen confusion and strengthen vital thoughts and feelings.
Blessed Healing!!!
Stones pictured are an example of what you will receive. Please allow for some differences as each stone is unique.
***Remember, crystal meanings are for spiritual support, not prescription or healthcare information. Crystal and Spiritual healing info is not a substitute, nor intended to be a substitute for medical advice, treatment or diagnosis. It is presented as spiritual support ONLY. Please do not forego medical treatment if needed. For medical info please seek the advice of a licensed healthcare professional***