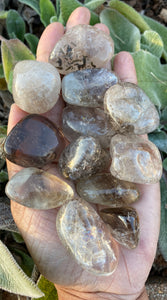 Smoky Quartz Tumblestones
Doers Beat Thinkers
Zodiac - Scorpio, Sagittarius, and Capricorn
Chakras: Root, Sacral, and Solar Plexus
Properties: Balance, Serenity; Calmness; Positive Thoughts; Calms Fear; Intuition;  Lifts Depression; Manifestation; Organization; Stability; Strength; Transformation; Practicality; Pride; Grounding; Protection; Personal Will

Planet: Earth, Saturn, and Sun
In addition to the generic healing properties of Quartz, Smokey Quartz is an excellent grounding stone.  It gently neutralizes negative vibrations and is detoxifying on all levels, prompting elimination of the digestive system and protecting against radiation and electromagnetic smog.  Smokey Quartz disperses fear, lifts depression and negativity.  It brings emotional calmness, relieving stress and anxiety.  Promotes positive thoughts and action, and alleviates suicidal tendencies.  Dispels nightmares and manifests your dreams.  Smokey Quartz aids concentration and assists in communication difficulties.

Smoky Quartz works well with other grounding stones such as Black Tourmaline and Black Kyanite. We highly recommend meditating with one or all of these stones to help with the organization of thoughts, ideas, and interests. If you're someone who is looking to enhance their meditation sessions surrounding manifestation, we suggest using Epidote with Smoky Quartz. Epidote is a natural enhancer that will allow you to open your eyes and bring clarity to the many decisions you face. By using these stones together it will help one speak from the heart when pursuing your most desired dreams. 
Blessed Healing!!!
Stones pictured are an example of what you will receive. Please allow for some differences as each stone is unique.
***Remember, crystal meanings are for spiritual support, not prescription or healthcare information. Crystal and Spiritual healing info is not a substitute, nor intended to be a substitute for medical advice, treatment or diagnosis. It is presented as spiritual support ONLY. Please do not forego medical treatment if needed. For medical info please seek the advice of a licensed healthcare professional***