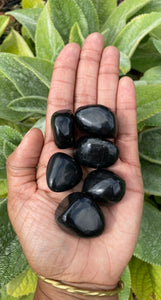 Shungite Medium Tumblestones
Doers Beat Thinkers
Chakra - All Chakras
Zodiac - Scorpio, Capricorn, Cancer
Properties - Inhibit EMF exposure; Strength; Clarity; Protection; Clearing; Cleansing; Elimination Toxins
Shungite has vast amounts of healing powers that can help anyone in need. Shungite naturally has electrical conducting properties that help inhibit electromagnetic radiation. Electromagnetic fields, which contain trace amounts of radiation, are produced by all common household electronics. Placing Shungite at the base of the electronic, throughout your home, and on the back of your phone will help drastically reduce the radial output without interfering with the operations.
Using Shungite has multiple effects on the body, including activation of all 7 "main" chakras. Its used to detoxify the body and rid the mind of negativity, while contributing as a cleanser as well. Shungite is a must have for people with difficult and uncontrollable emotions, as well as any form of anxiety or depression.  It allows for light to fill the body and make negativity extremely difficult to form.
Shungite can also be used to make many elixirs. One very common Elixir would be soaking the stone in water for a brief period of time allowing it, to purify. Drinking the purified water is beneficial to cell growth and assisting in detoxification of the body. As of modern testing, the psychical rock itself is even confirmed too have anti-bacterial properties. It was even used for medical treatment dating back to the mid-1700's.
Blessed Healing!!!
Stones pictured are an example of what you will receive. Please allow for some differences as each stone is unique.
***Remember, crystal meanings are for spiritual support, not prescription or healthcare information. Crystal and Spiritual healing info is not a substitute, nor intended to be a substitute for medical advice, treatment or diagnosis. It is presented as spiritual support ONLY. Please do not forego medical treatment if needed. For medical info please seek, the advice of a licensed healthcare professional***