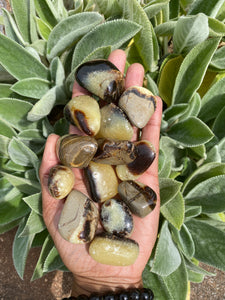 Septarian Large Tumblestones
Doers Beat Thinkers
Chakra: Root
Zodiac: Taurus
Planet: Earth
Properties: Alignment w/Higher Self; Ancient Knowledge; Angelic Communication; Astral Travel; Attunement; Attunement w/ Higher Realms; Bridging the Spiritual and Physical Worlds; Channeling and Grounded Higher Vibrations; Communication w/Higher Realms; Dreams; Gentle Self-Expression; Growth; Grounding; Higher Self; Inner Peace; Insight; Inspiration; Intuition; Inner Vision; Joy; Knowledge; Life Path; Meditation; Motivation; New Beginnings; Nourishing and Rejuvenation; Nurturing; Opportunities; Passion; Past Life Recall; Past Lives; Peace of Mind; Psychic Abilities; Prosperity; Relaxation; Self Discovery; Self- Healing; Self-Discipline; Selflessness; Sense of Purpose; Spiritual Awakening; Strength; Stress Relief; Transformation; Wisdom
Septarian is a powerful grounding stone that awakens one's connection to Mother Earth and the nurturing energy she provides. The root chakra will become activated when working with this stone and vital life force energy channeled throughout your body. This energy transferred through you is that of ancient origin, being a combination of 3 powerful minerals that will help in the realignment of one's chakra column. One may experience an "inner awakening" when connecting with this stone, driving drastic change and new habits to replace one's old daily habits. Septarian is a perfect tool for anyone going through some drastic change in their life and can help one repair their emotional body. Carrying this stone daily will provide a protective shield around one's aura full of power earthen energy that will help one slowly heal from the inside out. It may be a long, drawn-out process, but one can fully repair their emotional body and push through any lingering trauma.
This powerful talisman is also a perfect tool to help one tap into past life energy and memories. Meditating with this stone over your third eye repeatedly can help produce visions of one's previous life experience, as well as bring more understanding to your current life. Septarian will also help enhance one's dreams and provide a vividness one has yet to experience. We recommend placing this stone by your nightstand or within your pillowcase to maximize its true potential. Try pairing this stone with Quartz to enhance its energy output and the strength at which it vibrates.
Blessed Healing!!!
 The stones pictured are an example of what you will receive. Please allow for some differences as each stone is unique.
***Remember, crystal meanings are for spiritual support, not prescription or healthcare information. Crystal and Spiritual healing info is not a substitute nor intended to be a substitute for medical advice, treatment, or diagnosis. It is presented as spiritual support ONLY. Please do not forego medical treatment if needed. For medical info, please seek the advice of a licensed healthcare professional***