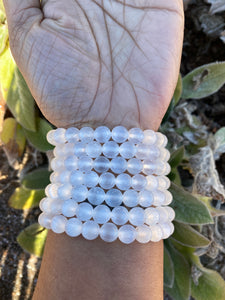 Selenite 7mm Bracelets
Doers Beat Thinkers
Regular price $24.24 Sale
Chakras: Etheric, Crown, and Third Eye
Zodiac: Gemini and Cancer

Properties: Aura Cleansing; Chakra Cleansing; Clarity of Thought; Clearing; Clairvoyance;  Dispel Negative Energy; Meditation; Purity of Heart; Integrity; Spirituality; Serenity; Purification; Peace; Psychic Development; Protection; Positive thoughts; Universal Love; Universal Consciousness;  
Planet: Moon
Selenite is the master cleanser and charger and is a must-have for every spiritual practitioner. The immense energies of Selenite know no boundaries when it comes to the restoration of our auric field and spiritual body. Selenite slices through the air, cleansing and recharging any environment it's placed in. It is one of our favorite stones to help remove negative energies that may have been picked up throughout our daily routines. Meditating with a piece over your third eye or crown chakra will allow you to raise your awareness and intuition levels.
Simply put, the expansion effect translates past our realm and into the dimensions of the dream world. Thoughts, ideas, and visions become more precise, consciously and subconsciously, while awake and asleep. Selenite provides clarity of the mind, expanding one's awareness of the self and surroundings. It opens the crown and higher crown chakras and accesses angelic consciousness and higher guidance. Selenite can be used to access past lives as well as future lives. Selenite is a calming stone that instills deep peace and is excellent for meditation or spiritual work. It assists judgment and insight. It clears confusion and aids in seeing the deeper picture.
To get the most out of your Selenite, try having a piece on you each day, in addition to on your bedside each night! This mineral holds no negative energy and is a tool that can cleanse and recharge your favorite stones and your auric field. To achieve this cleansing capability, place the crystals you've most recently worked with or purchased near or on your Selenite piece for regular cleansing.
Selenite is an excellent stone to be paired with Black Tourmaline for all physical ailments. When it comes to mental expansion and traveling beyond the planes of this reality, use Selenite in conjunction with Iolite and Dumortierite. When looking to activate and unlock your unique personal will, meditating with Selenite along with Garnet or Carnelian will significantly enhance your transformative capabilities. Communication can be an area in all of our lives that needs improvement. However, if you pair Selenite with stones like Blue Calcite, Chrysocolla, Larimar, Blue Chalcedony, and Turquoise, it will not only open your throat chakra but also enhance your word choice.
Selenite aligns the spinal column and promotes flexibility. It corrects deformities of the skeletal system and can stabilize epileptic disorders. It is used to improve conditions associated with metal poisoning due to teeth fillings and reverse the effects of "free radicals" in the cell structure. Effects that may be overcome include cancer, tumors, age spots, wrinkles, and light sensitivity.
 
Blessed Healing!!!
Stones pictured are an example of what you will receive. Please allow for some differences as each stone is unique.
***Remember, crystal meanings are for spiritual support, not prescription or healthcare information. Crystal and Spiritual healing info is not a substitute, nor intended to be a substitute for medical advice, treatment or diagnosis. It is presented as spiritual support ONLY. Please do not forego medical treatment if needed. For medical info please seek the advice of a licensed healthcare professional***