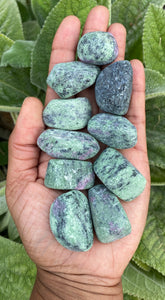 Ruby Zoisite Raw Tumblestone
Doers Beat Thinkers
Chakra: Crown, Third Eye, Heart, and Root
Zodiac: Aries and Aquarius
Planet: Venus
Properties: Growth; Anxiety Relief; Emotional Understanding; Grief and Mourning; Strength; Spiritual Awakening ; Transmutation of Negative Energies; Psychic Abilities; Joy; Creativity; Courage; Confidence; Grounding; Leadership; Expansion; Manifestation; Determination; Sexuality; Self Healing; Expanded Awareness; Communication w/ Guides
When Ruby and Zoisite are naturally combined into a single stone, the root, heart, and third eye chakras are all aligned and harmonize on the same vibrational level. This special combination of stones will help in the manifesting of ideas and will offer the strength and will to accomplish your dreams. Ruby Zoisite aligns the heart and third eye to produce a deepened understanding of what negativity you are carrying and how to conquer it. Ruby Zoisite is also one of the very few minerals that can transmute negative energies into positivity. Even leaving a piece in your daily environment will drastically benefit everyone in it.
Ruby Zoisite is a prized meditation stone. It promotes incredible psychic abilities for allowing inter-dimensional travel and for people who practice astral projection. The alignment of the root, heart, and third eye together allows for controlled, yet intense experiences filled with knowledge. To boost your creativity you can mix it with Sunstoneor Sardonyx. This combination of stones allows for full expansion of the mind and contact with higher beings, our spiritual guides.
Ruby Zoisite is a stone perfect for mourning and releasing pain and sorrow after the death of a loved one. Spiritually you will be comforted, and though you may not realize it, you will begin to heal slowly. Within time, you will get that passion back in your life and redevelop into an even better form of yourself.
Blessed Healing!!!
Stones pictured are an example of what you will receive. Please allow for some differences as each stone is unique.
***Remember, crystal meanings are for spiritual support, not prescription or healthcare information. Crystal and Spiritual healing info is not a substitute, nor intended to be a substitute for medical advice, treatment or diagnosis. It is presented as spiritual support ONLY. Please do not forego medical treatment if needed. For medical info please seek the advice of a licensed healthcare professional***