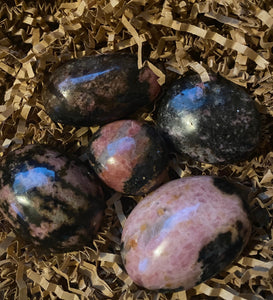 Rhodonite Large Palmstones
Doers Beat Thinkers
Regular price $14.14 Sale
Chakras - Heart Chakra
Zodiac - Taurus

Properties: Calmness; Self-confidence; Refinement; Gratefulness; Elegance;  Delicacy; Courtesy; Tact;  Alternatives; Inner path

Rhodonite is a stone of compassion, an emotional balancer that clears away emotional wounds and scars from the past, and that nurtures love.  It stimulates, clears and activates the heart.  Rhodonite grounds energy, balances yin-yang, and aids in achieving one's highest potential.  It heals emotional shock and panic.  Rhodonite aids in cases of emotional self-destruction, codependency and abuse.  It encourages unselfish self-love and forgiveness.  Promotes remaining calm in dangerous or upsetting situations.  Builds confidence and alleviates confusion.
Blessed Healing!!!
Stones pictured are an example of what you will receive. Please allow for some differences as each stone is unique.
***Remember, crystal meanings are for spiritual support, not prescription or healthcare information. Crystal and Spiritual healing info is not a substitute, nor intended to be a substitute for medical advice, treatment or diagnosis. It is presented as spiritual support ONLY. Please do not forego medical treatment if needed. For medical info please seek the advice of a licensed healthcare professional***