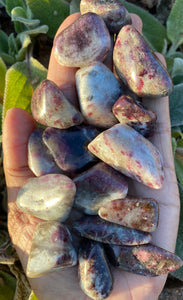 Red Tourmaline (Rubellite) Tumblestones
Doers Beat Thinkers
Chakra:  Heart and Root
Zodiac: Libra, Scorpio, and Sagittarius 
Planet: Venus, Earth
Properties: Physical Healing; Empathy; Enlightenment; Generosity; Gentle Expression; Nourishing and Rejuvenation; Nurturing; Passion; Peace of Mind; Emotional Understanding; Prosperity; Relaxation; Resolution; Self Healing; Sense of Purpose; Trauma; Soothing; Selflessness; Anxiety Relief; Calming and Patience; Breaking Addictions; Claiming Wholeness; Compassion; Courage; Decisiveness; Determination 
Red Tourmaline is one of the best stones that you can use since it can bring energies of vitality as well as strength. When other people always rely on you or have a busy life, this stone can also help you. Rubellite can offer you a limitless supply of drive, enthusiasm, and motivation. When a crystal of confidence accompanies this stone, Rubellite will bring the energy of love and passion. As a matter of fact, when you have this stone with you, you'll do the things that you love and love the things that you're doing.
If you want to maintain harmonious and peaceful surroundings in your business and office, this stone's energies can help you. Rubellite, on the other hand, prevents others from getting to disagreements and fights. When it comes to your financial pursuits, you'll have dignity and pride. What's more, you'll have the aptitude for peacekeeping, which can aid you in ironing out differences.
With the assistance of this stone, you will also exhibit your power to your co-workers without being irrational and pulling rank. You will also have the stamina and strength to reach the goals, particularly your financial goals. What's more, you'll be binding your own power. Another good thing about this stone is that it promotes creativity and lets you work persistently and determinedly.
Moreover, Rubellite brings energies of abundance and health, as well as prosperity and luck. But the most important is that the stone will make you feel grateful for your riches and abundance in life.
Blessed Healing!!!
The stones pictured are an example of what you will receive. Please allow for some differences as each stone is unique.
***Remember, crystal meanings are for spiritual support, not prescription or healthcare information. Crystal and Spiritual healing info is not a substitute, nor intended to be a substitute for medical advice, treatment, or diagnosis. It is presented as spiritual support ONLY. Please do not forego medical treatment if needed. For medical info