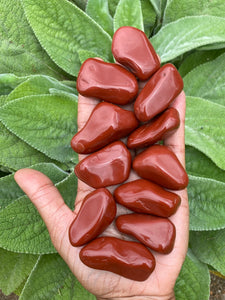 Red Jasper Large Tumblestone
Doers Beat Thinkers
Chakra - Root and Sacral
Zodiac - Leo, Virgo, Scorpio, Libra
Properties -  Abundance; Attraction; Action; Adventures; Anxiety Relief; Balance; Breaking Addiction; Confidence; Courage; Compassion; Creating Your Own Reality; Decisiveness; Determination; Enlightenment; Expanded Awareness; Expansion; Empathy; Focus; Grounding; Growth; Gentle Self-Expression; Insight; Inner Peace; Intuition; Inspiration; Joy; Knowledge; Leadership; Longevity; Living In the Present Moment; Manifestation; Meditation; Motivation; Mastering Fear; New Beginnings; Opportunities; Organization; Prosperity; Power; Peace of Mind; Patience; Stress Relief; Relaxation; Resolution; Strength; Soothing; Self-Healing; Self-Discipline; Sexuality; Sense of Purpose; Selflessness; Spiritual Awakening; Trust; Truth; Transformation; Wisdom
Planet - Mars and Earth
Red Jasper is an excellent grounding stone and helps you engage with the world outside of you. Red Jasper is a gently stimulating and also extremely protective stone.  It can neutralize radiation and other forms of environmental and electromagnetic pollution.  Red Jasper rectifies unjust situations and grounds energy.  It brings problems to light and provides insights into difficult situations.  An excellent "worry bead," Red Jasper calms the emotions.  Aids in dream recall.  Cleans and stabilizes the aura.  A stone of health, Red Jasper strengthens and detoxifies the circulatory system, blood, and liver.
 
Jasper is known as the "supreme nurturer."  It sustains and supports through times of stress and brings tranquility and wholeness.  Jasper provides protection and absorbs negative energy.  It balances yin and yang.  Jasper clears electromagnetic and environmental pollution, including radiation.  It encourages honesty with one's self.  Provides courage to tackle problems assertively.  Aids quick-thinking and promotes organizational abilities.  Jasper stimulates the imagination and transforms ideas into action.  Prolongs sexual pleasure.  It supports during prolonged illness and re-energizes the body.
Red Jasper is truly a "breakaway" stone that focuses on the body's inner needs while removing itself from toxic environments and situations. Almost all negative energy that impacts us is picked up from the surrounding people and places we interact with. For this reason, we highly recommend carrying a protection stone alongside your Red Jasper. We suggest doing this because as much as Red Jasper pushes one away from conforming to societal needs, it doesn't protect us from the current negativity spreading throughout this world. As long as you trust the journey you are on and continue channeling the magnificent abilities of Red Jasper; hope will soon overtake your emotional body. This vital emotion provides one with a perspective that forces one's fortitude and inner strength to shine through. The only way for you to achieve what you want in this world is by personally taking action and achieving it. Red Jasper helps you find the courage to say "enough is enough" and remove yourself from any situation that does not serve your highest good.
For protection stones to use in tandem with Red Jasper, we recommend Black Kyanite, Black Moonstone, and Shungite. All of these stones play a vital role in keeping our spirit alive and well. Remember to constantly cleanse your stones (except Black Kyanite) and release them of any negative energies they may have picked up throughout the day.
Blessed Healing!!!
The stones pictured are an example of what you will receive. Please allow for some differences as each stone is unique.
***Remember, crystal meanings are for spiritual support, not prescription or healthcare information. Crystal and Spiritual healing info is not a substitute nor intended to be a substitute for medical advice, treatment, or diagnosis. It is presented as spiritual support ONLY. Please do not forego medical treatment if needed. For medical info, please seek the advice of a licensed healthcare professional***