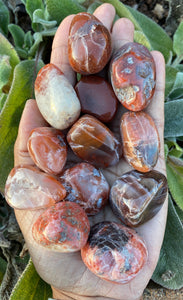 Fire Red Agate Tumblestones
Doers Beat Thinkers
Chakra: Root and Solar Plexus 
Zodiac: Aries Capricorn, Taurus, Scorpio, Pisces
Planet: Mars
Properties: Vitality; Safety; Grounding; Confidence; Passion; Affection; Stress Relief; Protection; Relaxation; Prosperity; Luck; Lucid Dreaming; Angelic Communication; Psychic Abilities; Clairvision; 
Red Agate helps dispel negative energies from your body and spirit. I helps cleanse bad vibrations to make you feel revived, eliminating negativity and pessimism.It helps protect against the evil eye, negative energy attacks, curses, and returns the to the sender. It is excellent for awakening, divination and psychic abilities, allowing you to see what cannot be seen with your eyes. 
Red Agate just being in your bedroom can regulate melatonin and your sleep clock in the body. If you're tense or nervous, red agate can soothe your nerves and muscles. It connects with lower chakras to make you feel at ease by making you grounded. You can enter deep sleep easily if you place a red agate under your bed. It opens your mind and connects you with the underground and the heavens. You will have vivid and vibrant dreams deep sleep. It can help you communicate with spirits that have passed and angels.
 Red Agate promotes our self-love and helps us to accept ourselves as we really are. The Red Agate stone is going to help you make better decisions and make you more confident whenever you have to speak your mind or make a rational decision. The effect of the red agate does not occur immediately, but then with full power. After a short time he converts into a completely positive feeling full of confidence. This is the beautiful gemstone to a jack of all trades in terms of well-being and mental health.  
Blessed Healing!!!
Stones pictured are an example of what you will receive. Please allow for some differences as each stone is unique.
***Remember, crystal meanings are for spiritual support, not prescription or healthcare information. Crystal and Spiritual healing info is not a substitute, nor intended to be a substitute for medical advice, treatment or diagnosis. It is presented as spiritual support ONLY. Please do not forego medical treatment if needed. For medical info please seek the advice of a licensed healthcare professional**