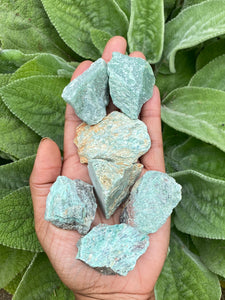 Raw Fuchiste
Doers Beat Thinkers
Chakra - Heart
Zodiac - Aquarius
Planets: Mercury and Earth
Properties: Resolution; Self-worth; Resilience; Passion; Trust; Truth; Wisdom; Anxiety Relief; Claiming Wholeness; Emotional Understanding; Meditation; Love and Relationships; Nurturing;  PTSD; Peace of Mind; Soothing; Stress Relief; Self Discovery; Selflessness; Relaxation; New Beginnings; Rejuvenation; Nourishing; Physical Healing; Joy 

Fuchsite helps us understand our daily lives, such as stress, physical health, routines, careers, and the environment.  It brings about a need to focus on basic concerns directly related to interactions with other people and the material world.  Fuchsite channels information regarding holistic and herbal remedies, giving suggestions on the most holistic action to take and receive guidance on health matters and well-being.
Psychologically, Fuchsite teaches true self-worth, assisting in eliminating a tendency towards martyrdom or issues of servitude.  Fuchsite helps to overcome codependency and aids in a speedy recovery from trauma, both emotionally and physically.
Fuchsite increases the energy of other crystals and helps in the transfer of their energy.  It shifts energy into positive channels, therefore releasing blockages caused by excess energy.  Fuchsite stabilizes spinal column alignment and increases flexibility in the musculoskeletal system.  It treats repetitive strain injury, carpal tunnel syndrome and aids in balancing the red and white blood cell ratio.