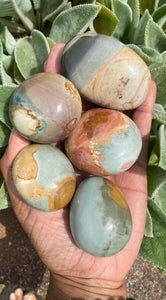 Polychrome Jasper Palmstones
Doers Beat Thinkers
Regular price $16.16 Sale
Chakra - Root, Sacral, Solar Plexus, Heart, Throat, Brow, Crown
Zodiac - Pisces, Aquarius
Properties - Passion; Sensuality; Sexuality; Romantic love; Intimacy; Positive thoughts; Energy; Past life recall; Inspiration; Success; Social popularity; Self-confidence
Planet - Earth
Polychrome Jasper is a stone that embodies one's the true self and helps you channel your energies to the ones closest to you. It facilitates and activates one's inner balance while helping you conform to your current environment. When one has a destination or desire in mind, it is much easier to figure out where exactly your soul is taking you and how to get there! Through this, one can reduce their day-to-day stress and embody the actual elements around them. By doing this, one can learn much about themselves and where it is they want to go. This Jasper variety is here to serve you, and part of that means helping you position your mindset to be ahead of your physical body.
When one taps into the vibrations of Polychrome Jasper, they are imbuing themselves with ancient Earth energy. This mineral contains the powers that come from planet Earth, and it works extensively to bind one's physical body down to this planetary level. The actual "roots" of this rock will begin to grow around our etheric body while channeling nurturing vibrations to uplift your life force. This vital energy can rejuvenize your core and re-ignite that "fire" within. Working with Polychrome Jasper serves as a reminder that anything is possible and that you are indeed your own creator
Blessed Healing!!!
Stones pictured are an example of what you will receive. Please allow for some differences as each stone is unique.
***Remember, crystal meanings are for spiritual support, not prescription or healthcare information. Crystal and Spiritual healing info is not a substitute, nor intended to be a substitute for medical advice, treatment or diagnosis. It is presented as spiritual support ONLY. Please do not forego medical treatment if needed. For medical info please seek the advice of a licensed healthcare professional***