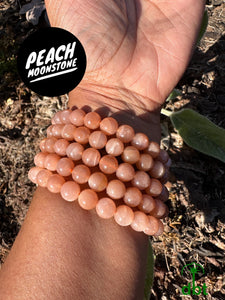 Peach Moonstone Bracelets
Doers Beat Thinkers
Regular price $32.32 Sale
Chakra: Crown, Third Eye, Heart, and Solar Plexus

Zodiac: Cancer, Scorpio, Libra
Planet: Moon 
Properties: Calm; Balance; Empathy; Intuition; Motivation; Power; Strength;Personal Will; Peace of Mind; Opportunities; Nurturing; Nourishing; New Beginnings; Self-Discipline; Meditation; Mastering Fear; Manifestation; Spiritual Awakening; Longevity; Life Path; Leadership; Wisdom; Truth; Trust; Transformation; Stress Relief; Soothing; Sense of Purpose; Self Healing; Claiming Wholeness; Anxiety Relief; Enlightenment; Empathy; Focus; Generosity; Emotional Understanding; Consciousness; Insight; joy; Adventures; Action; Abundance 
Moonstone is a " Stone of New Beginnings". It's strongly connected to the moon and to emotions. Assists communications with higher self or the Divine, aids connection with spiritual beings, increases psychic abilities and supports wish fulfillment.
Peach Moonstone supports the heart as it stimulates the mind, soothing worry or anxiety and bringing out the best in people. It's loving energy promotes the Divine in all situations and it is an emotional support for intuitives or sensitive children. Peach Moonstone is particularly consoling to anyone who may feel helpless because of weight problems, and should be worn to encourage one to love and value themselves for who they are, as is, and to assist in separating food from emotional needs. It can be useful with insomnia and creating beautiful dreams.
Stones pictured are an example of what you will receive. Please allow for some differences as each stone is unique.
***Remember, crystal meanings are for spiritual support, not prescription or healthcare information. Crystal and Spiritual healing info is not a substitute, nor intended to be a substitute for medical advice, treatment or diagnosis. It is presented as spiritual support ONLY. Please do not forego medical treatment if needed. For medical info please seek the advice of a licensed healthcare professional***