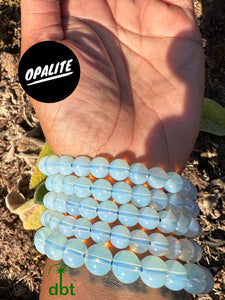 Opalite Bracelets 8inch
Doers Beat Thinkers
Regular price $16.16 Sale
Chakra: Third Eye
Zodiac: Cancer
Planet: Moon
Properties:
Opalite is subtle yet highly energetic.  It is ideal for meditation.  Opalite improves communication on all levels, especially the spiritual.  It removes energy blockages of the chakras and meridians.  Emotionally, Opalite helps by assisting during transitions of all kinds.  It engenders persistence and gives us strength in verbalizing our hidden feelings.  It can also help us to be successful in business.
Opalite is for all-around healing.  It aids sexual prowess, enhancing the sexual experience.  Opalite stabilizes mood swings and helps in overcoming fatigue.  
Blessed Healing!
Stones pictured are an example of what you will receive. Please allow for some differences as each stone is unique.

***Remember, crystal meanings are for spiritual support, not prescription or healthcare information. Crystal and Spiritual healing info is not a substitute, nor intended to be a substitute for medical advice, treatment or diagnosis. It is presented as spiritual support ONLY. Please do not forego medical treatment if needed. For medical info please seek the advice of a licensed healthcare professional***