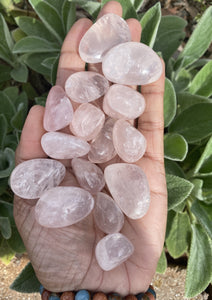 Morganite Tumblestones
Doers Beat Thinkers
Chakra: Heart
Zodiac: Libra
Planet: Venus
Properties: Anxiety Relief; Compassion; Calming and Patience; Claiming Wholeness; Enlightenment; Growth; Grief and Mourning; Gentle Self Expression; Inner Peace; Joy; Love and Relationships; Meditation; Emotional Understanding; New Beginnings; Nurturing; Nourishing and  Rejuvenation; Passion; Peace of Mind; Physical Healing; Purification; Relaxation; Resolution; Self- Healing; Stress Relief; Soothing; Trauma; Travel; Trust; Truth; Wisdom
Morganite is one of the strongest heart stones that you can have in your collection. This rare Beryl variety offers up pure love and compassionate energy. These powerful vibrations will fill one's aura from head to toe with calming and relaxing energy. This stone is here to help open up and cleanse one's heart space from the constant negative weight. We must face the negative energy and move on from it. The role of Morganite is to help one manifest the courage and confidence to face these feelings. Being reminded of our heart's power can help you realize the potential to love again. We highly recommend this stone to anyone who has gone through some trauma. Whether you've lost someone very close to you or are simply going through a rough breakup, Morganite will become your best friend. Just holding this stone in times of distress will remind you of the inner strength that your heart possesses.
When meditating with this stone, we recommend placing it over your heart space. Allow this stone's energy to directly sink into one's body, filling it up with pink rays of love, happiness, and joy. Allow your body and mind to relax while you push the daily trauma to the surface. During this time, one can face and grow past the events that hold you back. Doing this repeatedly helps one clear their heart space and keep it cleansed. Afterward, we suggest carrying or wearing a protection stone to keep one's "clean" heart safe. Black Tourmaline, Black Kyanite and  Black Onyx crystal are some common protection stones that can help. You mustn't allow your heart to pick up on random negative energy, as Morganite is known to drive one's compassionate side through the roof!
To increase the strength of Morganite's energies during deep meditation sessions, we recommend adding other heart or high-frequency stones. Some heart stones such as Rose Quartz, Lemon Quartz, and  Pistachio Opal will make it easier to access and unlock one's heart. These stones, especially Lemon Quartz, help in clearing and clearing negative energy in one's heart space. Higher frequency stones that will help enhance and strengthen Morganite's energy are Clear Quartz, Selenite, and Phenacite. Each one of these stones will push the powerful energy of Morganite into action while also healing any emotional wounds.
Blessed Healing!!!
Stones pictured are an example of what you will receive. Please allow for some differences as each stone is unique.
***Remember, crystal meanings are for spiritual support, not prescription or healthcare information. Crystal and Spiritual healing info is not a substitute, nor intended to be a substitute for medical advice, treatment or diagnosis. It is presented as spiritual support ONLY. Please do not forego medical treatment if needed. For medical info please seek the advice of a licensed healthcare professional***