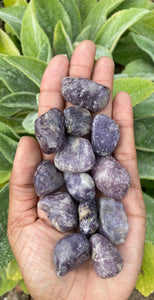 Lepidolite Small Tumblestones
Doers Beat Thinkers
Chakras - All
Zodiac - Libra and Pisces
Planets - Jupiter and Neptune
Properties - Calming and Patience; Dreams; Peace of Mind; Nourishing and Rejuvenation; Love & Relationships; Joy; Balance; Opportunities; Sleep; Purification; Relaxation; Stress Relief; Higher Self; Gentle Self Expression; Generosity; Anxiety Relief; Emotional Understanding; Lucid Dreaming
Lepidolite is very effective in stress relief, aiding in the release of worries and aligning one with acceptance - of the self, of others, and one's life situations. This stone is perfect for situations where the "going gets tough," as it settles and replenishes the emotional body and provides enlightened energy that helps one handle situations according to the highest path. It aids in preserving integrity and well-being when dealing with angry people, financial stress, loss of job or relationship, or the need to make big changes quickly. It is most effective when life is most challenging.
The aura of serenity that Lepidolite gives off branches out in many directions. This is an impeccable aid in responding to all forms of hostility without getting defensive or angry. It helps one easily find a harmonious course of action and see any problem that arises as a way of learning. It enhances physical grace making it excellent for those who feel clumsy or self-conscious in physical movement. Lepidolite also provides eloquence in speech and helps one to listen to others with compassion and patience. It has an acceptance aspect that is very effective when one is depressed, allowing one to dive into the sorrow and understand it rather than resist it and continue to suffer.
We recommend using water in meditation with Lepidolite; try taking a warm bath with one or more stones. Since it is a water element stone, it will effectively spread its calming influence throughout the bath and through one's energy field. Water is also useful in cleansing this stone. Lepidolite is an amazing ally in dreamwork, preventing nightmares, dream recall, and curing insomnia. It is recommended to place it under the pillow or above your head before bed. This stone can also be used to locate the sources of the body's disease and blockages by moving it along the body until it gently vibrates. Once the blockages are found, they can clear the blocked energies around them. Lepidolite can also be placed on parts of the body suffering from nerve pain, sciatica, neuralgia, and joint issues to ease and reduce the symptoms.
Lepidolite is an expansive stone, stimulating all chakras, especially the Heart (4th) and Third Eye (6th), allowing one to link to the Divine Presence or Higher Self. It releases fears of the unknown future and helps maintain faith that all is working out for the best. Lepidolite releases one from any negative attachments to the past that hold one back from happiness and success. It aids in attracting opportunities for success and friends and colleagues to support one in life's endeavors.  
Blessed Healing!!!
The stones pictured are an example of what you will receive. Please allow for some differences as each stone is unique.
***Remember, crystal meanings are for spiritual support, not prescription or healthcare information. Crystal and Spiritual healing info is not a substitute, nor intended to be a substitute for medical advice, treatment, or diagnosis. It is presented as spiritual support ONLY. Please do not forego medical treatment if needed. For medical info, please seek the advice of a licensed healthcare professional***