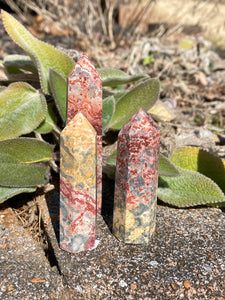 Leopardskin Jasper Towers
Doers Beat Thinkers
Regular price $24.24 Sale
Properties: Anxiety Relief; Anger& Stress;Alignment of Chakras; Breaking Addictions; Calming and Patience; Chakra Cleansing; Creating Your Own Reality; Consciousness; Confidence; Decisiveness; Focus; Growth; Leadership; Life Path; Masreing Fear; Nourishing and Rejuvenation; Physical Healing; Selflessness;Self Discovery; Spiritual Awakening; Strength; Stress Relief; Transformation; 
Zodiac: Sagittarius and Taurus
Planets: Earth
Chakras: Etheric; Crown, Third Eye; Throat; Heart; Solar Plexus; Sacral; Root; Earthstar
Leopard Skin Jasper is a unique crystal of Earth. Its orbicular formations are rare and offer transformative energy that helps realign and connect you back to your chakra system. As your chakras become clear of any blockages, you will be able to think and move more freely with an open mind. This will push you into a point of existence in which you may have subconsciously manifested throughout your entire life. Leopard Skin Jasper puts you back into the hands of the universe while helping you overcome harsh traits such as pride and ego.
When looking to ground yourself, Leopard Skin Jasper is an excellent stone to utilize.  At times we find ourselves overstimulated by the busy world around us and the energy required of us. Centering yourself is important as you will look inward and be able to live in the present moment instead of focusing on the anxiety of the past and future. Once centered with Leopardskin Jasper you will be able to maintain a positive mental attitude and attach yourself to things that can initiate personal growth. You will notice these might be new hobbies like as painting, writing, or any form of artistic expression. Through Leopard Skin Jasper and your awakened viewpoint, your soul will be fully activated and create physical self-expressions of who you truly are.
Blessed Healing!!!
Stones pictured are an example of what you will receive. Please allow for some differences as each stone is unique.
***Remember, crystal meanings are for spiritual support, not prescription or healthcare information. Crystal and Spiritual healing info is not a substitute, nor intended to be a substitute for medical advice, treatment or diagnosis. It is presented as spiritual support ONLY. Please do not forego medical treatment if needed. For medical info please seek the advice of a licensed healthcare professional***