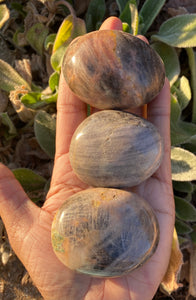 Black Moonstone (Larkivite) Palmstones
Doers Beat Thinkers
Regular price $15.15 Sale
Origin: Madagascar
Chakra: Root Chakra

Zodiac: Cancer, Libra, Scorpio
Properties: Grounding; Protection; Patience; Inspiration; Insight; Meditation; Motivation; New Beginnings; Transformation; Knowledge; Mastering Fear; Intuition; Self Healing; Selflessness; Self Discovery; Resolution; Anxiety Relief; empathy; Growth 
Larvikite is a protective and grounding stone. It is cleansing to the body and facilitates a strong connection with Earth's energies, helping connect with the spirits of Nature. It stimulates inner visions and enhances psychic abilities. It allows us to see the past, giving you a clear vision of your past life and how it's influencing your life now.
Larkivite will neutralize and dispel the negative energies that surround you. 
This stone will increase your intellect, stimulate your creativity, and deepen your wisdom. It will also help you see your genuine self through your higher self.
It will help you take in new information and create new pathways for this new information.
It's an excellent stone to help you achieve your goals and complete your projects sooner than you expect.
It will open your subconscious mind and make way for enhanced clarity of thought.
Larkivite will allow you to read between the lines to understand what other people mean on conscious and unconscious levels.
This stone is an excellent tool for lucid dreaming. You will be able to vividly remember your dreams, which will help you interpret their meaning in a more accurate and timely manner.
Larkivite will also work on your physical appearance to enhance your youthfulness and vitality!
***Remember, crystal meanings are for spiritual support, not prescription or healthcare information. Crystal and Spiritual healing info is not a substitute nor intended to be a substitute for medical advice, treatment, or diagnosis. It is presented as spiritual support ONLY. Please do not forego medical treatment if needed. For medical info, please seek the advice of a licensed healthcare professional***