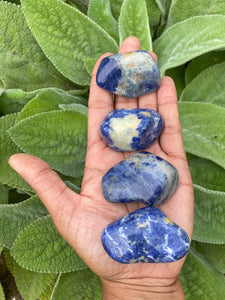 Sodalite Large Tumblestone
Doers Beat Thinkers
Chakra: Throat,  Third Eye 
Zodiac: Sagittarius
Planet: Venus
Properties: Logic; Intelligence; Emotional balance; Intuition; Clarity; Truth; Perception; Communication; Psychic Abilities; Clairvoyance; Self Discipline; Higher Self; Inner Vision; Angel Communication; Communication w/Guides; Communication w/ Higher Realms; Intention Enhancement; Alignment w/Higher Self
Sodalite is a stone of insight. It is a mental enhancer and a key to unlocking deepened intuition. It increases the users' insight and allows them to get over the mental hurdles they may struggle with daily. Sodalite enhances your mental capabilities and allows the natural contradictions of your mind to weaken slowly. It really is a personal stone in the sense that it dives deep down into your subconscious and allows true evaluation of aspects of your life. You'll notice your strengths and weaknesses, as well as assisting in finding your true desires.
Sodalite also assists in the development of ones' intuition. The stone's high vibrations aid truth and help you better understand yourself and what needs to be worked on. Being in such a calm and reflective state will really help pull out the negativity within.
Sodalite brings order and calmness to mind.  It encourages rational thought, objectivity, truth, and intuition, along with the verbalization of feelings.  Sodalite brings emotional balance and calms panic attacks.  It enhances self-esteem, self-acceptance, and self-trust.  
Sodalite pairs well with Lapis Lazuli when trying to increase mental capabilities and bring truthful insight to the user. Moldavite will act almost as an enhancer with its transformational capabilities; it will only strengthen the lasting effect of the Sodalite. Rose Quartz and Sodalite conjure some of the highest levels of self-healing. Both stones have very high vibrational frequencies making it easy to release negativity and replace it with pure enlightenment.
Sodalite balances the metabolism, boosts the immune system, and overcomes calcium deficiencies.  It combats radiation damage by soaking up electromagnetic smog.  Sodalite treats the throat, vocal cords, larynx and helps with hoarseness and digestive disorders.  It cools fevers, lowers blood pressure, and stimulates the absorption of body fluids.  Sodalite can also help to prevent insomnia.
Blessed Healing!!
The stones pictured are an example of what you will receive. Please allow for some differences as each stone is unique.
***Remember, crystal meanings are for spiritual support, not prescription or healthcare information. Crystal and Spiritual healing info is not a substitute nor intended to be a substitute for medical advice, treatment, or diagnosis. It is presented as spiritual support ONLY. Please do not forego medical treatment if needed. For medical info, please seek the advice of a licensed healthcare professional***