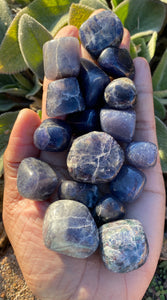 Iolite Tumblestones
Doers Beat Thinkers
Chakra: Third Eye
Zodiac: Taurus; Libra; Sagittarius 
Planet: Saturn
Properties: Psychic Ability; Dreams; Past Lives;Meditation; Communication; Attunement; Higher Self; Inner Vision; Attunement w/ Higher Realms; Communication w/ Higher Realms; Self Healing; Lucid Dreaming
Iolite has been referred to as the "violet stone", due to it's healing and unlocking capabilities of the third eye and crown chakras. It takes users on a journey inner path to their deep inner self. Iolite carries beautiful violet-blue energy that activates and clears the third eye allowing vision, communication, and awareness from higher vibrational dimensions. Many shamans use Iolite in their rituals and meditation sessions for not only the inner journey it brings, but also because of it's healing properties. Iolite strengthens the connection between the third eye and the heart, helping to heal old wounds that are weighing on one's chest. Iolite is a stone that challenges users by bringing you to areas that you've once feared, and pushing you forward attempting to dispel your fear. Lastly, Iolite will help to awaken the psychic abilities we all possess, showing us our true past life experiences.
Iolite works well with many stones depending on what each individual is in search of. When it comes to users desiring monetary success, Iolite works well with Peridot and Citrine, Hematite, Jet and Garnet  will help users ground themselves while working with Iolite. This is highly recommended due to the strength of the Iolite's vibrations. Some users who are new to working with Iolite will occasionally have issues of feeling "out of body", so carrying a grounding stone with you is highly recommended. For added spiritual protection, Onyx will keep you guarded the best while working with Iolite.
Blessed Healing!!!
Stones pictured are an example of what you will receive. Please allow for some differences as each stone is unique.
***Remember, crystal meanings are for spiritual support, not prescription or healthcare information. Crystal and Spiritual healing info is not a substitute, nor intended to be a substitute for medical advice, treatment or diagnosis. It is presented as spiritual support ONLY. Please do not forego medical treatment if needed. For medical info please seek the advice of a licensed healthcare professional***