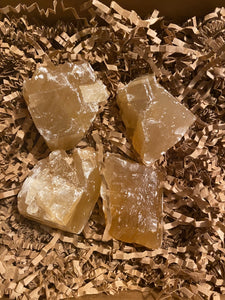 Honey Calcite Raw Chunks
Doers Beat Thinkers
Regular price $11.11 Sale
Chakra: Solar Plexus

Zodiac - Cancer
Boosts Energy; Optimism; Confidence;Deepen intellect ; Memory; Wisdom; Psychic abilities; Spirituality; Astral projection; Channeling; Higher Consciousness
Honey Calcite is a powerful amplifier and cleanser of energy. It helps us acknowledge our own personal power and recognize how to use it wisely. It amplifies developing leadership skills. It cleans negative energies from the environment. It brings forth a polarising prismatic energy, which engenders a spectrum of energy to clear and to activate all of the chakras. It increases feelings of self worth, confidence and courage.
Calcite connects the emotions with the intellect. It is an excellent stone when studying the arts and sciences. It calms the mind, teaches discernment, stimulates insights, and boosts memory.
Blessed Healing!!!
Stones pictured are an example of what you will receive. Please allow for some differences as each stone is unique.
***Remember, crystal meanings are for spiritual support, not prescription or healthcare information. Crystal and Spiritual healing info is not a substitute, nor intended to be a substitute for medical advice, treatment or diagnosis. It is presented as spiritual support ONLY. Please do not forego medical treatment if needed. For medical info please seek the advice of a licensed healthcare professional***