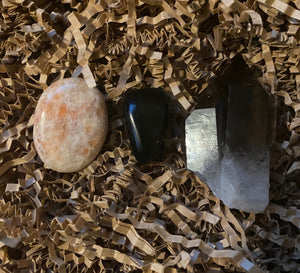 Grief Stone Set
Doers Beat Thinkers
Regular price $22.22 Sale
Grief is something we all have to go through at some point in our lives and losing someone can change your whole life in an instant. Always remember there is no one right way to experience this emotion – everyone goes through this process in their own way and in their own time. I've chosen these healing crystals to help you, or perhaps a grieving loved one, through this challenging time.
Sunstone
Sparkling sunstone is a high vibration crystal associated with the energy of the sun. It works to clear all your chakras which can become blocked during big life changes. This beautiful crystal helps to lift your mood and therefore will make your self-confidence shine too. Work with sunstone when you are ready to recover from feelings of grief and loss.
Obsidian
Black Obsidian is one stone that can absorb some of your grief. Increases feelings of safety and security, calms, provides spiritual protection, helps eliminate disruptive thoughts and beliefs. It can be placed on the root chakra, hold in either hand or carry in pockets.
Smoky Quartz
A member of the quartz family. It absorbs negative energy and increases positive energy, promotes grounding, increases vibrational energy, detoxifies, and aids in letting go of past hurt. 
Stones pictured are an example of what you will receive. Please allow for some differences as each stone is unique
***Remember, crystal meanings are for spiritual support, not prescription or healthcare information. Crystal and Spiritual healing info is not a substitute, nor intended to be a substitute for medical advice, treatment or diagnosis. It is presented as spiritual support ONLY. Please do not forego medical treatment if needed. For medical info please seek the advice of a licensed healthcare professional***