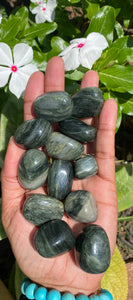 Green Tourmaline Tumblestones
Doers Beat Thinkers
Chakra: Heart
Zodiac: Virgo and Capricorn
Planet: Venus and Earth
Properties: Anxiety Relief; Breaking Addictions; Calm; Creating Own Reality; Claiming Wholeness; Consciousness; Connecting w/ Nature; Clairvoyance; Determination; Decisiveness: Determination; Elimination Toxins; Emotional Understanding; Empathy; Enlightenment; Expanded Awareness; Expansion; Focus; Generosity; Grounding; Growth; Gentle Expression; Inner Peace; Joy; Meditation; Nourishment; New Beginnings; Nurturing; Opportunities; Patience; Peace of Mind; Relaxation; Resolution; Strength; Stress Relief; Sense of Purpose; SoothingTrauma; Trust; Truth; Unity of Heart and Will
Green Tourmaline is a stone that warms the heart and helps one rejuvenate vital life force energy. Its vibrations help one tap into their emotional body to understand the emotions they feel. So often is our brain full of different stressors that can lead one to blame how they feel on unrelated variables. Green Tourmaline helps one look past these minor annoyances to get to the root of your emotional pain. One will be able to identify the trauma they've been carrying and understand what it is exactly what's holding them back from moving forward. By working with this stone continuously and tapping into the self-healing energies it provides, one will become calmer and find solutions to heal all emotional pain.
Green Tourmaline provides one with a heightened sense of awareness and is here to help you grow into an image of your higher self. Its vibrations push one's mind to follow their heart and desires. One's focus becomes laser-sharp and actively pushes you to move in the direction you need to head towards. There may be many distractions in your life each day, but Green Tourmaline will provide you with the tunnel vision needed to continue pushing forward.
Try using this stone with Pyrite for expanding one's power, drive, and manifestation abilities. These two minerals combined will provide one with the confidence and willpower to push through any obstacles, leading to the strength you need to reach your dreams. Try meditating with both these minerals in front of you and set two of your most desired intentions into them. Connect yourself with the vibrations of these stones and allow their energies to instilling trust and positivity throughout your mind. They should serve as a reminder each day that you are on the correct path, pursuing what's most important to you.
Blessed Healing!!!
The stones pictured are an example of what you will receive. Please allow for some differences as each stone is unique.
***Remember, crystal meanings are for spiritual support, not prescription or healthcare information. Crystal and Spiritual healing info is not a substitute, nor intended to be a substitute for medical advice, treatment, or diagnosis. It is presented as spiritual support ONLY. Please do not forego medical treatment if needed. For medical info, please seek the advice of a licensed healthcare professional***