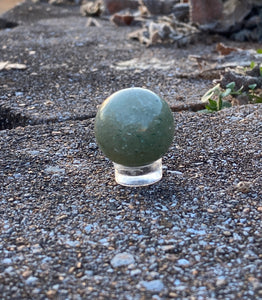 Green Aventurine Mini Sphere 20-25mm
Doers Beat Thinkers
Regular price $12.12 Sale
Chakra: Heart
Zodiac: Aries
Planet: Mercury and Venus
Properties: Attraction; Abundance; Balance; Cleansing; Peace of Mind; Luck and Good Fortune; Strength; Opportunities; Stress Relief; Prosperity; Personal Will; Enhancing; Emotional Understanding; Peace of Mind
Green Aventurine is known as the "Stone of Opportunity," thought to be the luckiest of all crystals, especially in manifesting prosperity and wealth or increasing favor in competitions or games of chance. Its winning energy makes it a great ally for boosting one's chances in any situation - a first date, tax audit, even landing a promotion. One needs only to be near it to derive its benefits.
However, this beautiful stone is not merely an attractor of luck but one that aligns conditions, so "opportunity" is inevitable. Green Aventurine releases old patterns, habits, and disappointments so new growth can take place. It brings optimism and a zest for life, allowing one to move forward with confidence and embrace change. It enhances one's creativity and motivation and encourages perseverance in maneuvering life's obstacles. It also reinforces one's decisiveness and amplifies leadership qualities, injecting a sense of humor and openness to others' ideas.
Blessed Healing!!!
The stones pictured are an example of what you will receive. Please allow for some differences as each stone is unique.
***Remember, crystal meanings are for spiritual support, not prescription or healthcare information. Crystal and Spiritual healing info is not a substitute, nor intended to be a substitute for medical advice, treatment, or diagnosis. It is presented as spiritual support ONLY. Please do not forego medical treatment if needed. For medical info, please seek the advice of a licensed healthcare professional***