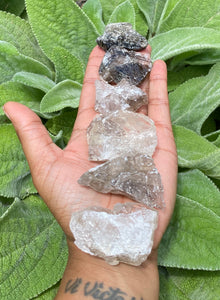 Elestial Quartz Raw
Doers Beat Thinkers
Regular price $15.15 Sale
Chakra: All
The word elestial means 'crystal of the angels', which means this crystal has a strong connection to the angelic realm.  It holds energies of angels and higher beings from other dimensions, and using this crystal will also bring you their love, wisdom, and love. Elestial Quartz is a powerful crystal to have because it will harmoniously combine its vibrational energies with your physical and energetic bodies.  It will allow you to receive information from the higher dimensions, and it will support you in your journey toward spiritual enlightenment. You will learn to use your higher wisdom to help you with your everyday life.
Elestial Quartz will open vibrational pathways so that energies of knowledge, wisdom, and love can be sent across the dimensions to connect with your consciousness on all levels. This will also help you let go of emotional patterns that you cannot seem to release, such as sorrow, anger, or fear. These emotions affect not only how you feel and think, because they can also affect your decision-making capabilities.
Elestial Quartz can help you manifest all that you desire, which means it can help you attract wealth and abundance if these things are what you desire. It will clear your energy fields of negative vibrations, and it will give you mental clarity. Fresh new ideas will flow out of you, and you will be more focused on what you need to do to succeed.
It will also amplify your positive affirmations, your prayers and wishes, and your deepest desires. They are powerful crystals that can help you build stronger connections to the spirit world.  Elestial Quartz can bring about major changes in your life!
Blessed Healing!!!
Stones pictured are an example of what you will receive. Please allow for some differences as each stone is unique.
***Remember, crystal meanings are for spiritual support, not prescription or healthcare information. Crystal and Spiritual healing info is not a substitute, nor intended to be a substitute for medical advice, treatment or diagnosis. It is presented as spiritual support ONLY. Please do not forego medical treatment if needed. For medical info please seek the advice of a licensed healthcare professional***