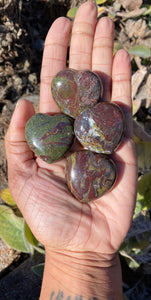 Dragon Blood Jasper Hearts
Doers Beat Thinkers
Regular price $19.19 Sale
Chakra: Throat, Heart, Solar Plexus, Sacral
Properties: Balance; Calming and Patience; Compassion; Communication; Confidence; Courage; Creativity; Emotional Understanding; Endurance; Focus; Gentle Self-Expression; Grief and Mourning; Intention Enhancement; Joy; Love & Relationships; Manifestation; Meditation; Nourishment and Rejuvenation; Opportunities; New Beginnings; Power; Passion; Personal Will; Resolution; Self-Healing; Self - Love; Strength; Trauma Release
Zodiac: Gemini, Libra, Sagitarrius
Planets: Earth
Dragons Blood is a type of Epidote with Red Piemontite grown throughout.  Piemontite is a member of the Epidote family and can be found in colorful and acicular crystal formations.  Epidote is a natural magnifier of any and all energy in its environment and attracts what you output.  This combination stone is common when formed in metamorphic rocks such as marble or granite.  A rarer occurrence that includes Dragon Stone is when they are shaped from hydrothermal alteration, transforming sedimentary and metamorphic rocks into igneous rocks.  This formation has only been found in Copper mines within South Africa and is usually surrounding modern natural hot springs, hence the theory of their appearance.
Piemontite has been known to strengthen and rejuvenate the soul and heal the emotional body. Dragon Stone is a stone that activates and unlocks the heart. Its red rays pulsating off a chunk of Epidote enhances the rate at which the heart heals and aids in a reconnection between the mind, heart, and soul.  This important reconnection allows you to speak and feel as one being, and not just scattered feelings and disconnected emotions.  Dragons Blood is one of the best stones for anyone who is strictly looking to work on themselves so that they may be better for the ones closest to them.  The vibrations of energy from Dragons Blood fills your heart with love, courage, and power.  You will notice yourself radiating that energy to others.
It's important to remember that Epidote attracts the energy you put out, like a karma stone.  It radiates the sense of "what goes around comes around."  If you're having a bad day and notice your energy output is very harmful, I would recommend putting your piece of Dragon Blood Jasper to the side until you can take a moment out of the day and work on yourself.
Dragon Stone is also a potent manifestation tool.  It's a perfect stone to set your intention into daily and push one to achieve their goals with energy coming directly from the heart.  One will soon learn that the radiating power from a beating heart is strong enough to assist one in achieving their wildest dreams.  Dragon Stone is a constant reminder in this world that anything is possible, even this rare combination of two potent crystals.
When meditating with this stone, I recommend placing it on your heart and taking deep breaths, with each breath being slower than the last.  Close your eyes and picture your beating heart slowing down and opening itself up.  Allow the stone's red rays to fill the heart with love, passion, courage, and healing energies.  Let these energies begin pumping through your body with each heartbeat, filling every last inch of your body with new, rejuvenated energy.  Doing this daily or a few times a week will tremendously impact your mood, relationships, and self-worth.
When working with Dragonstone, we recommend using Morganite in conjunction with it.  Morganite enhances the strength of the Epidote and Piemontite's heart vibrations and is a powerful remedy for any grief, sorrow, trauma, or filled emotions.  Together, these stones work towards empowering our emotional body and pushing for more positivity to radiate throughout one's aura.
Blessed Healing!!!
Stones pictured are an example of what you will receive.  Please allow for some differences as each stone is unique.
***Remember, crystal meanings are for spiritual support, not prescription or healthcare information.  Crystal and Spiritual healing info is not a substitute, nor intended to be a substitute for medical advice, treatment or diagnosis.  It is presented as spiritual support ONLY.  Please do not forego medical treatment if needed.  For medical info please seek the advice of a licensed healthcare professional***