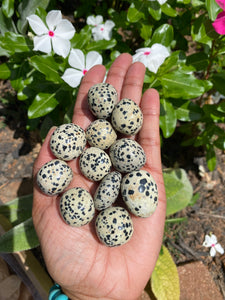 Dalmatian Jasper Tumblestones
Doers Beat Thinkers
Properties: Action, Clarity, Creativity, Channeling, Clairvoyance, Consciousness, Confidence, Courage, Creating Your Own Reality, Determination, Decisiveness, Energy Transfer, Expansion, Expanded Awareness, Exercising and Sports, Focus, Growth, Grounding, Insight, Inspiration, Intention Enhancement, Knowledge, Joy, Leadership,  Life Path, Living in the Present Moment, Longevity, Luck and Good Fortune, Manifestation, Meditation, Mental Enhancement, New Beginnings, Nourishing and Prosperity, Physical Healing, Past Lives, Personal Will, Past Life Recall, Passion, Organization, Opportunities, Rejuvenation, Resolution, Self Discipline, Self Healing, Self Discovery, Sense of Purpose, Sexuality, Strength, Stress Relief, Transformation, Truth, Trust, Truth, 
Chakras: Solar Plexus, Sacral, Root
Zodiac: Gemini
Planet: Earth
Dalmatian Stone helps strengthen your connection with the planet, while also channeling one's personal will in the physical realm. This unique mineral helps one pursue their goals and provides the necessary tools needed along their journey. Dalmatian Stone raises one's confidence level and brings it to the forefront, showing you that you are fully in control of your life path. The drive that radiates off this crystal is unprecedented. You will almost immediately sense an overwhelming obsession for accomplishing all your dreams. As you work with this stone and tap into the powerful vibrations that emanate from it, one will find yourself questioning your surroundings. This is due in part to one's internal vibration being raised while also being centered on your own personal desires. Dalmatian Stone is here to show you that your voice is the loudest and that it will help you disconnect from negative energies that stunt your personal growth. By listening to your inner consciousness and allowing your soul to speak, one will know the way that is most resourceful for them. Dalmatian Stone will provide everlasting comfort when dealing with these confusing times. It will also constantly promote your own well-being before others and will serve as a daily reminder of that.
Mediatate with this stone as well as with other sacral chakra activating stones such as Orange Calcite, Aragonite, Carnelian, Smoky Quartz or Tiger's Eye. These crystals help channel energy throughout one's aura and body, as well as enhance one's creative thought process. Each stone offers its own attributes to the existing powers Dalmatian Stone possesses, but they all share the trait of helping you find your way! These crystals work as navigation tools, allowing one to seek opportunities that offer pathways to our desires.
Blessed Healing!!!
Stones pictured are an example of what you will receive. Please allow for some differences, as each stone is unique.
***Remember, crystal meanings are for spiritual support, not prescription or healthcare information. Crystal and Spiritual healing info is not a substitute, nor intended to be a substitute for medical advice, treatment or diagnosis. It is presented as spiritual support ONLY. Please do not forego medical treatment if needed. For medical info please seek the advice of a licensed healthcare professional***