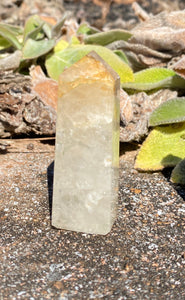 Golden Healer Quartz Tower
Doers Beat Thinkers
Regular price $20.20 Sale
Zodiac: Leo
Chakra: Crown, Sacral and Solar Plexus and Root
Planet: Sun
Properties: Creativity; Grounding; Manifestation; Passion; Power; Multidimensional Healing; Restoration of Energetic Wholeness; Optimum Functioning
Golden Healer Quartz is a high-vibration crystal and a master healer, just like Gold. It will raise your vibrations, amplify your intentions, and release any blockages that are present in your body and in your life. It will work on you in a very calm way, but the changes that will transpire will run very deep and happen on multiple levels. The changes will be profound and will not happen overnight. But once they do, you will be enjoying the huge difference!
You will spend time working on your thoughts and emotions, and then trying to look at them from a different and higher perspective. You will also be able to integrate your insights together with the physical ailments that you may have.
This makes it a great companion crystal when you want to achieve your financial goals and bring in more luck, abundance, and prosperity.
This crystal will help you overcome your failures and disappointments with positivity, and it will not make you lose faith that you will become successful. When you work with the energies of this crystal, you will be more open to the possibilities of success and abundance. You will be attracting prosperity, and you will be able to maintain the integrity and strength in your business or professional relationships.
Golden Healer Quartz is a crystal of success. It will increase your self-confidence and boost your creativity that will help you achieve success in your business and financial pursuits. It will help keep your focus and filter out the distractions. It will also encourage you to move forward after going through a disappointing or negative experience.
Golden Healer Quartz will enhance your joy and happiness and diffuse your unhealthy feelings, fears, and insecurities. It will make you focus on all the great things that you have in your relationship and inspire you to increase these positive feelings.
This crystal will also get rid of negative energies inside, whether they are overly critical thoughts, destructive emotional behaviors, stagnant energies, unreleased pains, or lack of a deeper understanding regarding a certain situation. It will act as a refreshing and welcome wakeup call that will make you realize just what you're doing and what you should be doing.
It will also make you reflect on all your actions and decisions, and everything that you have done to get to where you are. This crystal will remind you that nothing good and beautiful ever comes easy. If you are struggling in love or in your relationship, it's because this experience is preparing you for something good and amazing in the future!
Golden Healer Quartz will encourage you to walk the talk and do the hard work that you know you should be doing. If you really want something to change or to happen in love, you should be ready to take some risks and to get out of your comfort zone.
If you have ongoing or past life issues that are preventing you from giving, receiving, or harnessing your personal power, the energies of Golden Healer Quartz will help you remove the blockages and regain your power.
It will also eliminate your trust issues and strengthen the bond that you share with your significant other. All the sins of the past will be forgiven and forgotten.
This crystal will also boost your self-confidence and strengthen your self-esteem. It's a crystal that will help you understand, cleanse, clear, accept, and start all over again. Golden Healer Quartz will allow you to heal your wounds in this life as well as from your past life. It will help you bring all your experiences, lessons, and everything else together in one place of peace and clarity.

It will help you understand, accept, and forgive, which is not exactly the easiest thing to do when you still have not fully healed from your emotional wound.Golden Healer Quartz crystals carry unique magic. They activate, stimulate, and balance your solar plexus chakra, crown chakra, and root chakra. They provide you with an extra layer of protection and a stronger sense of empowerment. Their energies will stabilize and nurture you. They will also encourage you to unleash your full potential.
They have the ability to strengthen and amplify your positive qualities and eliminate anything that causes you fear, pain, and anger.
Blessed Healing!!!
Stones pictured are an example of what you will receive. Please allow for some differences as each stone is unique.
***Remember, crystal meanings are for spiritual support, not prescription or healthcare information. Crystal and Spiritual healing info is not a substitute, nor intended to be a substitute for medical advice, treatment or diagnosis. It is presented as spiritual support ONLY. Please do not forego medical treatment if needed. For medical info please seek the advice of a licensed healthcare professional***