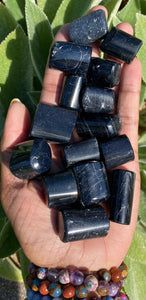 Black Tourmaline Sphere Large Tumblestone
Doers Beat Thinkers
Chakra: Root Chakra
Zodiac: Capricorn
Planet: Earth
Properties: Creativity; Clearing; Cleansing;  Flexibility; Happiness; Objectivity; Compassion; Serenity; Balance; Mastering Fear;  Positive Transformation; Protection; Purification;  Healing; Strength; Tolerance; Transmutation of Negative Energies; Emotional Understanding;

Black Tourmaline is the most effective blocker of curses, psychic attack, and ill-wishing. It protects against cellphone emanations, electromagnetic disturbance, radiation, and negative energies of all kinds. Gridded around the house or space, it delivers protection on all levels. Black Tourmaline aids in understanding oneself and others.  It promotes self-confidence and diminishes fear.  Tourmaline attracts inspiration, compassion, tolerance and prosperity.  It balances the right-left sides of the brain.  Helps treat paranoia, overcomes dyslexia and improves hand-eye coordination.  Tourmaline releases tension, making it helpful for spinal adjustments.  It balances male-female energy within the body.  Enhances energy and removes blockages.
Black Tourmaline can be used to both repel and protect against negativity.  It is excellent for deflecting radiation energy.  It enhances ones physical well being by providing an increase in physical vitality, emotional stability, and intellectual acuity.
 
Blessed Healing!!!
Stones pictured are an example of what you will receive. Please allow for some differences as each stone is unique.
***Remember, crystal meanings are for spiritual support, not prescription or healthcare information. Crystal and Spiritual healing info is not a substitute, nor intended to be a substitute for medical advice, treatment or diagnosis. It is presented as spiritual support ONLY. Please do not forego medical treatment if needed. For medical info please seek the advice of a licensed healthcare professional***