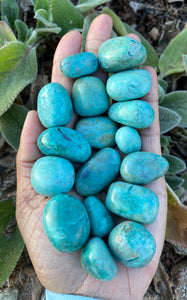 Chrysocolla Tumblestones
Doers Beat Thinkers
Chakra: Throat; Heart; Root
Zodiac: Taurus, Gemini, Virgo
Planet: Mercury
Properties: Awareness Expansion; Balance; Calm and Patience; Communication; Gentle Self Expression; Inner Peace; Joy; Truth; Meditation; Stress Relief; Mastering Fear; Peace of Mind
Chrysocolla is a stone of empowerment, communication, and calming. People who tend to get erratic and are hyper-emotional during stressful situations need to carry a piece of Chrysocolla daily. This stone will reduce that panic feeling when overwhelmed and will allow you to have a clear head and a calm mind while making difficult decisions. Chrysocolla will aid in communicating those thoughts while raising your wisdom to achieve these ideas in reality. Chrysocolla is commonly worn around the neck near the throat chakra for the maximum effects of its abilities.
Chrysocolla has been found with Quartz infused within. This special type of Chrysocolla is called Gem Silica and is extremely powerful. The Quartz magnifies all of Chrysocolla's energies and will bring forth inner-truth about yourself in an obvious, understanding way.
Chrysocolla harmonizes well with other copper silicates such as Ajoite, Malachite and Azurite. Each stone acts as an enhancer, working off one another. 
Blessed Healing!!!
Stones pictured are an example of what you will receive. Please allow for some differences as each stone is unique.
***Remember, crystal meanings are for spiritual support, not prescription or healthcare information. Crystal and Spiritual healing info is not a substitute, nor intended to be a substitute for medical advice, treatment or diagnosis. It is presented as spiritual support ONLY. Please do not forego medical treatment if needed. For medical info please seek the advice of a licensed healthcare professional***