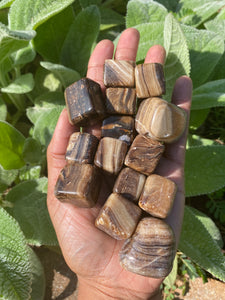 Chocolate Calcite Cube Tumblestones
Doers Beat Thinkers
Regular price $11.11 Sale
Properties: Balance, Calming, Confidence, Courage, Connecting w/ Nature, Decisiveness, Determination, Focus, Growth, Insight, Intuition, Longevity, Leadership, Meditation, Protection, Power, Physical Healing, Self Discipline, Self Discovery, Sense of Purpose, Self Healing, Stress Relief
Chakras: Root
Zodiac: Pisces, Virgo, Libra
Planet: Earth
Chocolate Calcite resonates directly with your root chakra to help ground your physical and emotional bodies. This is extremely important when looking to grow as you push yourself to new heights. With a clear, level head and a grounded intuition, you can make concise and constructive decisions.
A stone of courage and creativity it aids in stimulating your lower chakra system, assisting you in being able to jump-start your internal passions. When holding or meditating with Chocolate Calcite, you can feel a strong connection to the earth. It is an excellent stone to turn to when looking to unwind after a long, chaotic day. This crystal should serve as an essential reminder to focus on yourself so that you can ultimately help those around you. As you begin to grow in life and view each day with a more positive outlook, you will notice others around you naturally do so as well.
Rooting your chakra system is vital, so try pairing Chocolate Calcite with other grounding stones such as Garnet, Hematite,  Shungite,  Mookite Jasper or Red Jasper.
Blessed Healing!!!
Stones pictured are an example of what you will receive. Please allow for some differences as each stone is unique.
***Remember, crystal meanings are for spiritual support, not prescription or healthcare information. Crystal and Spiritual healing info is not a substitute, nor intended to be a substitute,e for medical advice, treatment,t or diagnosis. It is presented as spiritual support ONLY. Please do not forego medical treatment if needed. For medical info please seek the advice of a licensed healthcare professional***