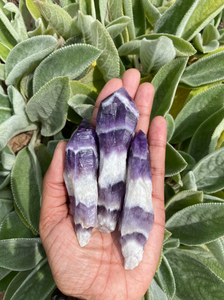 Chevron Amethyst Rod
Doers Beat Thinkers
Regular price $15.15 Sale
Chakra: Third Eye and Crown
Zodiac: Virgo, Sagittarius, Capricorn,  Aquarius, Pisces
Planet: Jupiter, Neptune
Properties: Angelic Communication; Ascension; Attunement; Astral Travel; Alignment w/Higher Self; Breaking Addictions; Bringing the Spiritual and Physical Worlds; Channeling; Clarity; Compassion; Enhancing; Expanded Awareness;  Increases Nobility; Inner Vision; Spiritual awareness; Psychic Abilities; Inner Peace and Healing; Healing of Body, Mind & Soul; Positive Transformation; Meditation;  Balance; Relieves Stress; Communication w/ Higher Realms; Dreams
Chevron Amethyst, also known as Dog Tooth Amethyst, is the name given to naturally occurring Amethyst and White Quartz in a banded or "V" pattern. This variety of Amethyst is found in the form of masses with the only known localities in the countries India, Russia, and Brazil. Its name is derived from the word that means "line in the shape of a V". This mineral is often carved and shaped into trinkets such as pendulums, buddhas, eggs, palm stones, and animals.
As well as sharing the same energies and vibrations of normal Amethyst, Chevron Amethyst is far stronger and more powerful when working with our higher chakras. This variety of Amethyst specifically focuses on the third eye and crown chakras, activating and linking the two together. This important channel is useful when attuning and aligning yourself with higher energies and frequencies. Meditating with this stone will increase the vividness and clarity of one's dreams and the imagery within. As the third eye sees these images, one's brain will be able to better understand what it means and the connection it has to your current life. This stone is here to help connect you to your higher self and work towards establishing a permanent connection between this ever so important being. Our "higher self" is the truest and most pure form of who we are. By connecting with this side of you, you will naturally be guided on a life path that suits you. Our higher self pushes us to be the person that we truly want to be, not a mold of what society tells us to fit into. I recommend working with this stone as frequently as possible, as well as placing it directly on your third eye to help activate it instantly. 
When working with Chevron Amethyst, it's important to work with other higher frequency stones to strengthen your connection with higher realms. Some stones we suggest adding to your meditation routine are Indigo Gabbro, Sodalite, and Lapis Lazuli. Each of these stones by themselves are incredibly strong and vibrate at a high frequency. All of them will help strengthen one's unique psychic abilities, as well as connect to higher dimensions containing lifetimes of knowledge.
Blessed Healing!!!
Stones pictured are an example of what you will receive. Please allow for some differences as each stone is unique.
***Remember, crystal meanings are for spiritual support, not prescription or healthcare information. Crystal and Spiritual healing info is not a substitute, nor intended to be a substitute for medical advice, treatment or diagnosis. It is presented as spiritual support ONLY. Please do not forego medical treatment if needed. For medical info please seek the advice of a licensed healthcare professional***