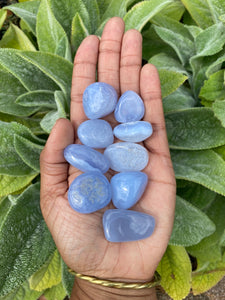 Blue Lace Agate Tumblestones
Doers Beat Thinkers
Zodiac- Pisces, Gemini
Chakras- Throat
Planets - Mercury
Properties - Soothing, Communication, Clarity, Confidence, Truth, Trust, Inner Peace, Relaxation, calming and Patience, Manifestation  and Meditation 
Blue Lace Agate is all about communication skills and how to make your voice heard. Our throat chakra becomes activated and our voice immediately becomes stronger when working with or carrying this stone. This Agate variety provides inner strength that can renew one's confidence and bring about clarity within. This renewed, confident voice is here to serve you in speaking the truth without using harmful tones. One will not get overwhelmed with emotions when talking about difficult subjects, and your inner intuition will help with providing the correct words in the context you wish them to be seen in. Aside from aiding in confrontation or uncomfortable situations, the confidence-boosting properties Blue Lace Agate provides is perfect for job interviews, public speaking, or even any type of therapy sessions.
Along with the communicative skills this stone offers, Blue Lace Agate is also a great manifestation tool. By constantly saying what you want in this world and vocally manifesting it, it will soon become physical. This stone is a perfect tool to assist in helping one to say what they truly want, clearly. We recommend performing this regularly as the affirmation becomes stronger with each word spoken.
This stone also works well when combined with other communication stones such as Aquamarine, Amazonite, Sodalite, and Lapis Lazuli. All these stones help one work on speaking the highest truth while generating the confidence to do so. For someone who is looking to speak what's weighing on the heart or with a loving tone attached, meditating with Rose Quartz is recommended. This combination will also enhance the calming and soothing vibrations of Blue Lace Agate, pushing one into a state of relaxation and euphoria.
Blessed Healing!!!
Stones pictured are an example of what you will receive. Please allow for some differences as each stone is unique.
***Remember, crystal meanings are for spiritual support, not prescription or healthcare information. Crystal and Spiritual healing info is not a substitute, nor intended to be a substitute for medical advice, treatment or diagnosis. It is presented as spiritual support ONLY. Please do not forego medical treatment if needed. For medical info please seek the advice of a licensed healthcare professional***