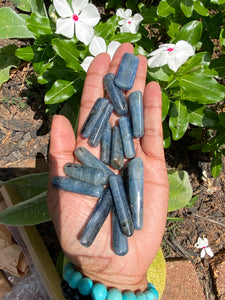 Blue Kyanite Tumblestones
Doers Beat Thinkers
Properties: Angelic Communication; Attunement; Attunement w/ Higher Realms; Bridging the Spiritual World and Physical Worlds; Calming and Patience; Communication; Communication w/ Higher realms; Communication w/ Guides;  Dreams; Higher Self; Intuition; Interdimensional Communication; manifestation; Meditation; Peace of Mind; Psychic Abilities; Relaxation; Sleep; Transformation
Chakras: Third Eye; Throat
Planets: Mercury and Neptune
Zodiacs: Gemini and Pisces
Blue Kyanite helps one access their mind while expanding their unique psychic abilities. Your third eye and crown chakra will connect, enabling you to understand knowledge at different frequencies. The easiest way of showing off the powers of this mineral is to simply place a piece by your bedside, or even directly on your third eye before you go to sleep. As your physical body falls asleep, your mind is experiencing its own nightly journey. While you're asleep, your mind is constantly trying to decipher and understand the dreams and visionary details you are receiving. These may derive directly from our spirit guides or guardian angels and be a message from the universe. Either way, the meaning of this symbolism is prevalent now more than ever. If you find yourself in a situation of uncertainty, try looking towards your dreams for understanding the answers to all of your problems.
Like every other Kyanite, Blue Kyanite shares the passive ability of not needing to be cleansed. This stone does not absorb any negative energies and is a great tool for any practitioner. We recommend this crystal to any Reiki or energy healer.
Alongside dream decoding, Blue Kyanite is also very useful in practicing astral projection. It can help one attune to realms beyond our own consciousness's understanding. As it pushes one into a constant state of ascension, you will passively notice yourself not only absorbing energy but grounding it. This will only help any and all spiritual work you do here on Earth.
Blessed Healing!
Stones pictured are an example of what you will receive. Please allow for some differences as each stone is unique.
***Remember, crystal meanings are for spiritual support, not prescription or healthcare information. Crystal and Spiritual healing info is not a substitute, nor intended to be a substitute for medical advice, treatment or diagnosis. It is presented as spiritual support ONLY. Please do not forego medical treatment if needed. For medical info please seek the advice of a licensed healthcare professional***