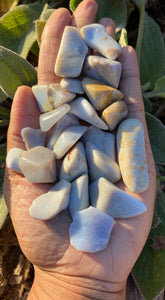 Blue Chalcedony Small Tumblestones
Doers Beat Thinkers
Chakra: Third Eye, Throat, Heart
Zodiac: Aries
Planet: Neptune
Properties: Anxiety Relief; Alignment w/Higher Self; Breaking Addictions; Bridging the Spiritual and Physical Worlds, Creating Your Own Reality; Consciousness; Claiming Wholeness; Communication; Communication w/Guides; Compassion; Decisiveness; Determination; Expanded Awareness; Enlightenment; Empathy; Emotional Understanding; Generosity; Growth; Gentle Self-Expression; Intuition; Inner Peace; Inspiration; Inner Vision; Knowledge; Joy; Leadership; Longevity; Lucid Dreaming; Life Path; Living In the Present Moment; Mastering Fear; Meditation; Motivation; New Beginnings; Nourishing and Rejuvenation; Relaxation; Peace of Mind; Passion; PTSD; Purification; Psychic Abilities; Stress Relief; Sense of Purpose; Selflessness; Self Discovery; Self-Discipline; Self-Healing; Soothing; Synchronicity; Trust; Truth; Transformation; Wisdom
Blue Chalcedony is a calmer of the emotional body and helps one communicate their truest thoughts and ideas, known as the Speaker's Stone.  This encourages deeper discussions with the ones you love, which will strengthen your relationships and help "awaken" their emotional bodies as well. As one begins to self-reflect and begins their journey with Blue Chalcedony, they must first work to clear their mind and allow their heart to speak. During deep meditation sessions, place this stone over your heart, throat, or third eye, and allow its energies to resonate directly with that chakra. As you begin to slow your breathing and focus all your energy towards your heart space, remind yourself why you have set out on this journey of self-betterment. Is it to better understand yourself and your true spirits? To voice your feelings and better communicate with the community? To calm your emotional body and help keep your mind clear? Any answer you have is perfect, as long as you are reminding yourself of this constantly. Blue Chalcedony will raise submerged emotions throughout this experience that we've grown to ignore and subconsciously avoid. As difficult as it may be facing these stressful emotions, it is important for you to finally do so in honor of what you've been through. Every experience you've gone through has built the person you are today, and Blue Chalcedony shows the positive effects it truly has on your ever-growing spirit. It will promote goodwill and camaraderie that will help you work harmoniously with anyone.
When engaging in difficult discussions such as public speeches or expressing yourself better, Blue Chalcedony is the stone for you. The energies that release from this stone directly help raise one's internal connection to one emotional body while channeling it into words you can speak. The harshness of the situation is forgotten, and the inner fortitude within you begins to shine. Your confidence will increase as you speak up for yourself and create your own "voice of reason."
Blessed Healing!!!
The stones pictured are an example of what you will receive. Please allow for some differences as each stone is unique.
***Remember, crystal meanings are for spiritual support, not prescription or healthcare information. Crystal and Spiritual healing info is not a substitute nor intended to be a substitute for medical advice, treatment, or diagnosis. It is presented as spiritual support ONLY. Please do not forego medical treatment if needed. For medical info, please seek the advice of a licensed healthcare professional***