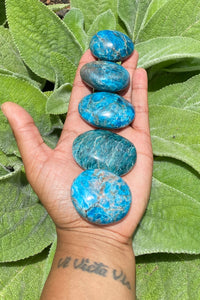 Blue Apatite Palm Stone
Doers Beat Thinkers
Regular price $12.12 Sale
Chakra- Third Eye Chakra
Zodiac- Gemini, Capricorn, and Pisces
Properties - Angelic Communication;  Astral Travel; Intellect; Inner Peace; Learning; Clarity of concentration; Acceptance; Unconditional Love; Stimulates Thoughts & Ideas;  Communication; Intellectual Pursuits; Peace and Harmony; Psychic Abilities;  Strength; Weight Control; Motivation; Lucid Dreaming
Blue Apatite opens the throat chakra.  It enhances communication in groups and facilitates public speaking.  It heals the heart and emotions.  Blue Apatite connects to a very high level of spiritual guidance. 
Apatite is a stone of manifestation.  It is related to service and to humanitarian pursuits.  Apatite is attuned to the future, yet connects to past lives.  It stimulates the development of our psychic gifts and spiritual attunement, deepening meditation and aiding communication and self-expression on all levels.  It balances the physical, emotional, mental, and spiritual bodies, and the chakras, eliminating overactivity and stimulating calm.
Blue Apatite is known to increase the strength and frequency of lucid dreaming. Placing a piece in your pillowcase will allow increased visionary states that will strengthen as you become attuned to another realm. Blue Apatite will also aid in astral projection and allow for "vertical vision", being able to see all levels of consciousness working harmoniously.
Psychologically, Apatite increases motivation.  It draws off negativity about oneself and others.  It is helpful for hyperactivity and autism in children.  Apatite enhances creativity and intellect.  It clears confusion and frustration, reducing irritability and awakening the inner self.  Apatite expands knowledge and truth and eases sorrow, apathy, and anger. 
 Apatite has been known to also successfully suppress hunger. This can work by wearing or carry Apatite daily, or making an elixir with the majority of it containing the mineral. Due to Apatite's strength, we encourage you to work with it during long meditation sessions. Its vibrations attract guides and other entities, and assists in communication with them. Anyone working on strengthing and unlocking their highest intuition and vision, Blue Apatite is the stone for you.
Blessed Healing!!!
Stones pictured are an example of what you will receive. Please allow for some differences as each stone is unique.
***Remember, crystal meanings are for spiritual support, not prescription or healthcare information. Crystal and Spiritual healing info is not a substitute, nor intended to be a substitute for medical advice, treatment or diagnosis. It is presented as spiritual support ONLY. Please do not forego medical treatment if needed. For medical info please seek the advice of a licensed healthcare professional***