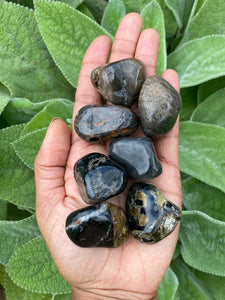 Black Onyx Large Tumblestone
Doers Beat Thinkers
Chakra - Root
Zodiac - Capricorn
Strength; Stamina; Constancy;  Permanence;  Firmness;  Durability; Self-control; Grounding; Protection 

Onyx gives strength. It is believed to absorb sorrow.  It promotes vigor, steadfastness and stamina.  Imparts self-confidence, helping you to be at ease in your surroundings.  Onyx banishes grief, enhances self-control and stimulates the power of wise decision-making. It encourages happiness and good fortune. Use it for grounding you in rituals and during astral projections. 
Blessed Healing!!!
Stones pictured are an example of what you will receive. Please allow for some differences as each stone is unique.
***Remember, crystal meanings are for spiritual support, not prescription or healthcare information. Crystal and Spiritual healing info is not a substitute, nor intended to be a substitute for medical advice, treatment or diagnosis. It is presented as spiritual support ONLY. Please do not forego medical treatment if needed. For medical info please seek the advice of a licensed healthcare professional***