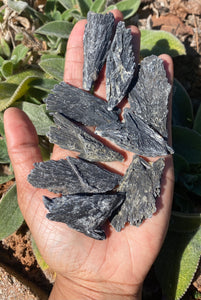 Black Kyanite Fan
Doers Beat Thinkers
Chakra: Root, Sacral, Solar Plexus, Heart, Throat, Third Eye, Crown
Zodiac: Aries; Libra; Pisces

Planets: Jupiter and Saturn
Properties: Aura Cleansing; Empathy; Calm; Joy;  Meditation; Patience; Protection; Psychic Abilities; Physical Healing; Past Life Recall; Self Healing 
Black Kyanite activates the entire chakra column while also helping one realign their entire body and spirit. This can be felt through deep meditation, especially when placing your crystal directly over the affected chakra. We like to take slow and deep breaths as we first begin our session, allowing our emotional and physical bodies to become comfortable with Black Kyanite's energies. Once done, remove any thoughts from your head and focus your eyes (while shut) to the center of your forehead. Doing so for 20-30 minutes a few days a week can alter the course of your decision-making process. It will also lead to the absolving of any negativity one may have been holding onto both physically and emotionally.
After our session, we like to take our piece of Black Kyanite and turn it upside down (so the fan is facing the bottom). Take your crystal and use it as a broom, etherically brushing away any last negative pollution still attached to your aura. This "smog" is easily extinguished and with its removal, one is able to fully restart their growth process without any restriction or blockages.
Blessed Healing!!!
Stones pictured are an example of what you will receive. Please allow for some differences as each stone is unique.
***Remember, crystal meanings are for spiritual support, not prescription or healthcare information. Crystal and Spiritual healing info is not a substitute, nor intended to be a substitute for medical advice, treatment or diagnosis. It is presented as spiritual support ONLY. Please do not forego medical treatment if needed. For medical info please seek the advice of a licensed healthcare professional***