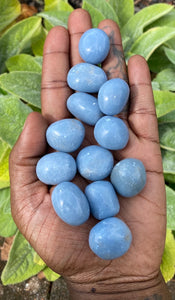 Angelite Tumblestones
Doers Beat Thinkers
Chakras - Crown, Third Eye, Throat
Zodiac - Aquarius
Planets- Uranus and Moon
Properties - Calming and Patience, Psychic Abilities, Dreams, Intuition, Clairvoyance, Angelic Communication, Weight Control, Gentle Self Expression, Expanded Awareness, Lucid Dreaming and Peace of mInd
Angelite is a very high vibrational stone that activates and aligns our throat, third eye, and crown chakras. This stone will help attune oneself to a higher frequency, which helps connect both their guardian angels and spirit guides. Using this stone as a meditation tool will help transmit and vocalize (into the physical plane) the knowledge which you absorb through the third eye and crown connection. Angelite is a very powerful communication stone when it comes to connecting to other realms and frequencies. As you work with this stone repeatedly, you'll notice your inner vision becoming more vivid. Your dreams will be easier to understand, allowing you to be more in touch with your psychic abilities and how to channel them.
If you're someone that is trying to activate your own unique psychic abilities, we recommend working with Angelite alongside other high vibrational stones. Angelite will assist one during lucid dreaming attempts, especially if you place the stone next to the pillow you sleep on. By strengthening your connection to the dream realm and other dimensions, one will become more attuned to this frequency. During this time dreams will be more controllable, with each little message having a symbolic meaning behind it. You will naturally pick up on these signs and their meaning, as opposed to someone who doesn't remember their dreams. 
Angelite is also a calming stone that can help alleviate overwhelming emotions. Simply holding a piece will induce a soothing sensation that slowly works its way throughout the body. Carrying a piece of Angelite daily will increase one's aura with calming vibrations that can block away negativity that comes your way.
Blessed Healing!!!
Stones pictured are an example of what you will receive. Please allow for some differences as each stone is unique.
***Remember, crystal meanings are for spiritual support, not prescription or healthcare information. Crystal and Spiritual healing info is not a substitute, nor intended to be a substitute for medical advice, treatment or diagnosis. It is presented as spiritual support ONLY. Please do not forego medical treatment if needed. For medical info please seek the advice of a licensed healthcare professional***