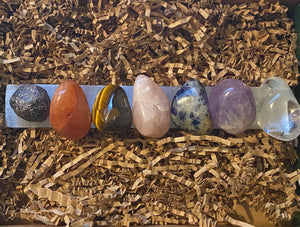 8 Stone Chakra Set
Doers Beat Thinkers
Regular price $30.00 Sale
8 Stone Chakra Rough Crystal Healing Gemstone Set
Stones are approx. 1.5" to 2" in length
Uses: Reiki healing, Crystal grids, body grids, gardening tool, etc.

Stones included are:
Clear Quartz- Crown Chakra
Amethyst- Third Eye Chakra

Sodalite- Throat Chakra

Rose Quartz-  Heart Chakra
Tigers Eye - Solar Plexus Chakra

Carnelian- Sacral Chakra
Raw Garnet- Root Chakra
Selenite - Charging Bar and can be used for Crown Chakra as well
Blessed Healing!!!
Stones pictured are an example of what you will receive. Please allow for some differences as each stone is unique.
***Remember, crystal meanings are for spiritual support, not prescription or healthcare information. Crystal and Spiritual healing info is not a substitute, nor intended to be a substitute for medical advice, treatment or diagnosis. It is presented as spiritual support ONLY. Please do not forego medical treatment if needed. For medical info please seek the advice of a licensed healthcare professional***